Working together, growing your business faster
Stingray's consultants work with you to achieve significant growth on and offline.
See how we can help…
Years of expertise and insights
With over 100 years combined prowess achieving growth, we can help reach your objectives.
Discover how here…
Powerful results made personal
We immerse ourselves with your business, understanding what makes you tick to deliver amazing results! 
Talk to us today!
Tailored Solutions Delivering Growth
We are Growth Strategy Experts
Here at Stingray, we aim to immerse ourselves deeply within your organisation. We want to become one of the team and to discover where there is friction, where there is success and where we can implement strategy to increase performance in a multi-faceted way. We're here to support your growth and profitability, using all our expertise and years of insight to give you a leading edge against your competitors.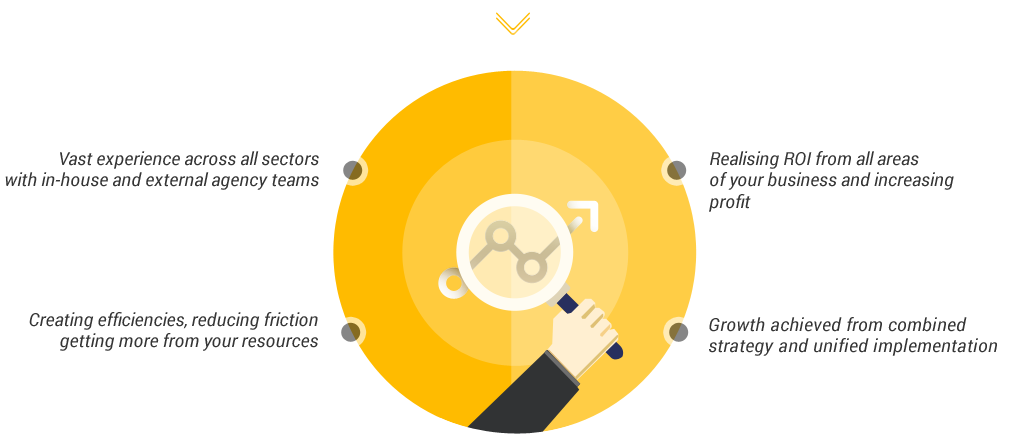 How can we help you?
A suite of complimentary solutions to achieve growth
Retail Consultancy
We're retail experts. From ecommerce brand and multi-brand clients, to offline multi-store or boutique organisations we have worked across every type of business to transform their performance and deliver growth
Efficiency Creation
Our consultants work closely with you to pinpoint and optimise opportunities across your operations, delivering growth to your organisation
Sales Strategy
Our team are driven to get you increased sales. These may be from a retail store, ecommerce website or through lead generation activities. We work with our clients on all aspects to achieve sales growth
With a 360° Strategic Approach
Stingray Consultants works with a wide array of devices designed specifically to work together creating a unified strategy. From SEO to PPC, HR support to Sales training or even replatforming project management, once we've spent time with you, we'll be able to advise on how we can best use our team to your advantage
"

"Without Stingray we simply wouldn't have achieved the results we have seen in the last year. I've not yet asked a question they didn't know the answer to and their advice has been invaluable!"

"

"Stingray provided some great insights and ongoing advice whilst we were launching. Specifically with Adwords and guidance on where to start with digital marketing their help has been brilliant."

"

"I've worked with Ed at Stingray for many, many years. The work he and the team have done to help support Stuarts London's growth has been excellent, we've got a great working relationship and I'll always turn to Stringray for help and advice with my marketing and general online advice."
Our Valuable Clients
Some of our latest Clients